Excellent website full of ideas !
http://www.dayoutwiththekids.co.uk/things-to-do/Whitby
Top 10 'Good Weather' Children's Activities in Whitby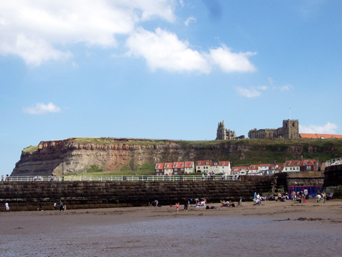 Whitby West Cliff Beach
1. The Beach
For children of all ages, the beach is the perfect destination on a fine day. For sandy beaches, Whitby has the large West Cliff Beach. West Cliff Beach has approximately 2 miles of sand and stretches from the West Pier, past the colourful beachhuts and along to Upgang. In the summer months there are lifeguards in attendance. Deckchairs and windbreaks are available to hire from the slipway near the West Pier. Donkey rides, close to the West Pier, are a favourite with the children.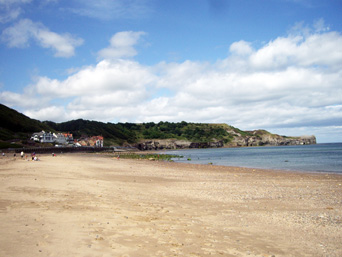 Sandsend Beach
West Cliff Beach is a wonderful stretch of sandy beach, where families can play, paddle, collect shells, play ballgames, build sandcastles and fly kites, just to mention a few activities. Dogs are restricted from the 1st May to the 30th September.
Sandsend has a large sandy beach beach cafe and shop (see Coastal Villages, Sandsend page), again dogs are restricted from 1st may to the 30th September.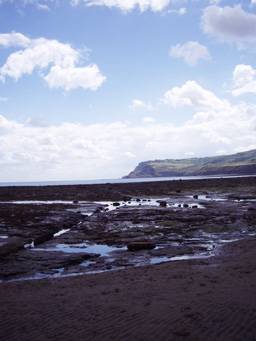 Rocky Shore at Robin Hood's Bay
Robin Hood's Bay has a rocky shore, which is great for searching in rock pools, although take care, the rocks can be slippy. Footwear, with a good grip is also a good idea, the barnacles can make the rocks quite sharp (see Yorkshire Coast, Robin Hood's Bay page). There are toilets at top of slipway. Beaches can be fantastic fun for children, but always take care, tides can come in very quickly and currents can be strong.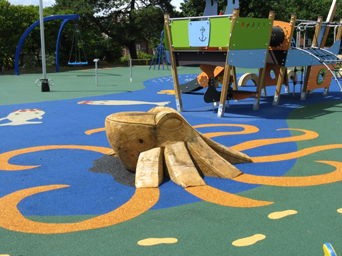 Pannett Park Playground
2. Pannett Park
The regeneration of Whitby's Pannett Park has provided a wonderful children's play area for kids (see Pannett Park page). Built on Whitby's maritime theme, it incorporates designs from local children and caters to children of all ages. The play area is easily accessed from the top of Chubb Hill Road or St Hilda's Terrace. Note, for parents of smaller children, avoid the large stones around the hammock. They look nice, but children could easily slip on them.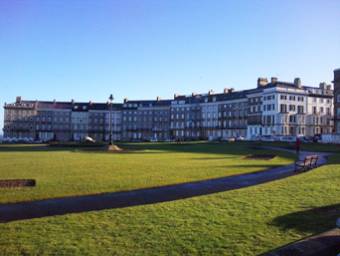 Royal Cresecent
3. Whitby West Cliff
On the West Cliff, there are a number of activities suitable for children. There is a 'pitch and put' golf green for older children, close to the leisure centre. Near the Cliff lift, is the Crazy Golf, always a favourite the old and young alike! On the West Cliff there is an outdoor paddling pool with public conveniences closeby. A new skateboarding area has recently been built.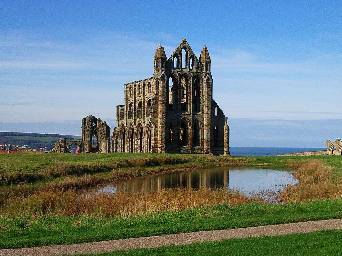 Whitby Abbey
4. Whitby Abbey
The impressive ruins of Whitby Abbey have breathtaking panoramic views of the town of Whitby and the surrounding coastline. From Whitby Harbour the abbey can be reached on foot via the 199 Abbey Steps or up the steep cobbled Donkey Path, and through the church yard of St Mary's Church. Alternatively a well signposted road leads from the towns outskirts to the clifftop location, which might be easier if you have a push chair. There is chargeable parking close to the abbey grounds.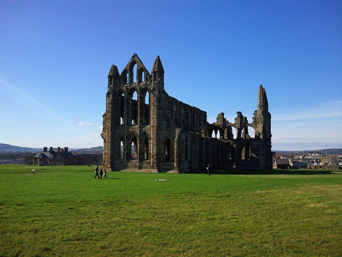 Whitby Abbey
Near the abbey ruins are the remains of the Cholmley family mansion. The impressive classical facade now houses an award winning visitor's centre. The centre displays fascinating finds from Anglo-saxon, medieval and the Cholmley periods. There are many interactive activites and an audio tour of the abbey grounds.Whitby Abbey also has special events, for example, pirate themed days. To find out more information on Whitby Abbey, including opening times, prices, access and facilities, see the English Heritage website, by clicking on the following link. Whitby Abbey English Heritage Site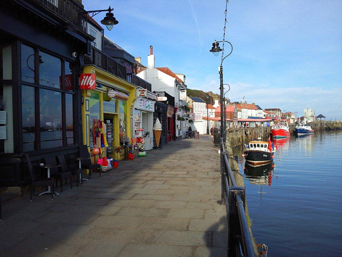 Shops along the Harbour in Whitby
5. Whitby Pier and Pier Road
On Pier Road there are three amusement arcades. As well as the usual bingo, slot machines and small children�s rides, there is acrazy golf with a pirate theme, shooting gallery, mini ten pin bowling and a soft play centre for younger children, alongside a caf� for the parents to supervise from. Pier road has a lots of ice-cream shops and traditional seaside sweet shops, and huts selling buckets and spades etc.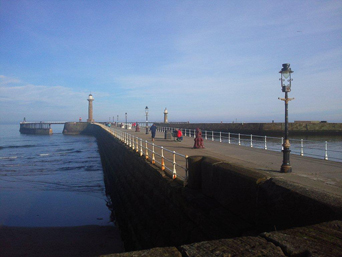 Whitby's West Pier
There is a slipway down to the beach next to the west pier, at the top of which are the public conveniences. Leading around to the seaward side from here, there are small children�s rides set up in the summer months opposite to the cafes. The stone part of the West Cliff Pier has seats at various places along the pier, where you can stop for a rest. Avoid the pier in bad weather, or when there are high tides or rough seas.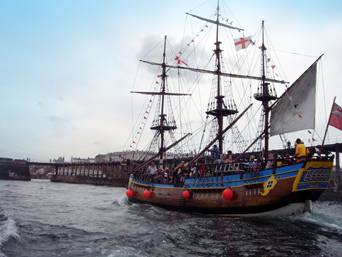 The Replica Endeavor
6. Boat Trip from the Harbour
There are a number of pleasure craft willing to take paying passengers either upstream or out to sea. These include a replica of an old sailing ship, an old lifeboat, and larger craft that takes sunset cruises, twilight cruises and whale watching trips! These too can be found along the harbour on the west side.
Ruswarp Boats
7. Ruswarp Boats
Along this stretch of the River Esk is Ruswarp Pleasure Boats where boats can be hired to row down the River Esk till nearly as far as Sleights. This is a lovely, tranquil stretch of river, bordered by overhanging branches and inhabited by ducks and some swans. Fishing is available from here. There is a minature railway, with a small car park, the train runs on a weekend Easter to October and all the school holidays.(see Ruswarp village, in the moorland village section).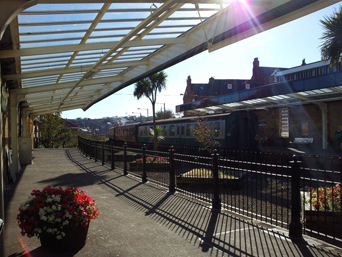 Whitby Station
8. Steam Trains
Steam trains run from Whitby to Pickering at various times all through the year. The trains stop off at stations along the way including Grosmont and Goathland. Please check the North Yorkshire Moors Railway website for details of special events and timetables, by clicking on the following link.
North Yorkshire Moors Railway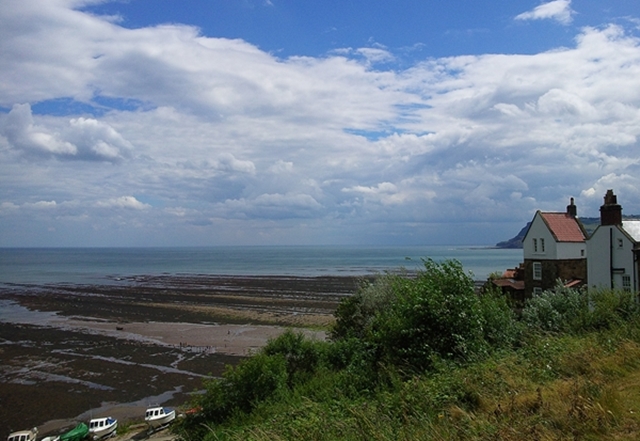 Robin Hood's Bay
9. Cycle Hire
Trailways is a cycle hire centre at the Old Railway Station at Hawsker, on the A171 between Whitbyand Robin Hood's Bay. The Scarborough/Whitby Coastal Cycle Rail Trail follows the old coastal railway cindertrack along some of the most stunning coastline in Noth Yorkshire. Check out the website for prices and opening times, by clicking on the following link (the centre is not always manned) Trailways Cycle Hire
10. Go Ape at Dalby Forest
For older children, age 10 or older, Go Ape Tree Top Adventure is certainly a physically challenging activity. Activities include climbing a 30 ft rope ladder, a tarzan swing into a giant rope net and a zip wire through the trees.To find out more about Go Ape, prices and directions, check out their website, by clicking on the following link. GO Ape at Dalby Forest
'Not so Good Weather' Children's Activities
Ruswarp;-
1. Mini Monsters
Mini Monsterz in Ruswarp, is open all year and includes a pottery painting studio, indoor laser tag, outdoor laser combat, farm park and adventure play and a welcome caf� bar! The Indoor Play Area is a good size and suitable for children aged from 0 to 16. Amongst the many facilities within the four level play area are a wide variety of exhilarating slides, including a terrifying death slide for those brave enough to take the plunge. There are cargo nets, and miniature zip-lines as well as bash bags and interactive lights that keep children entertained.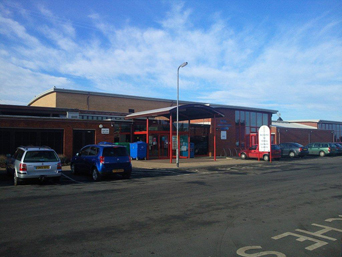 Whitby Leisure Centre
2. Whitby Leisure Centre
Whitby Leisure centre has a swimming pool, tennis courts, gymnasium and badminton court.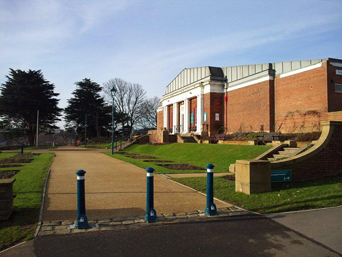 Whitby Museum
3. Whitby Museum
Visiting Whitby Museum is a good indoor activity for older children. It is home to many fascinating collections. The Archaeology Collection displays Bronze Age weapons and Roman lamps amongst other things. The Captain Cook collection contains many historically important artifacts, that illustrate his association with Whitby and events of his voyages (1768-1779). The museum houses one of the best collections of Jet artifacts in the world. There are many examples of jewellery (broaches and pendants), a chess table and even a model of Whitby Abbey!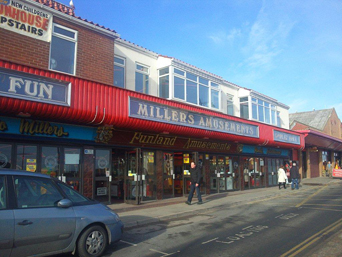 Whitby Amusement Arcade
4. The Amusements on Pier Road
On Pier Road there are three amusement arcades. As well as the usual bingo, slot machines and small children�s rides, there is acrazy golf with a pirate theme, shooting gallery, mini ten pin bowling and a soft play centre for younger children, alongside a caf� for the parents to supervise from.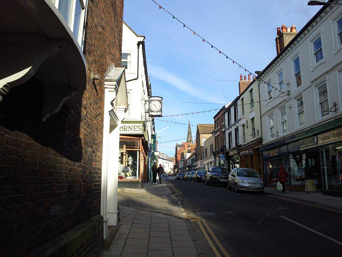 Skinner Street Whitby